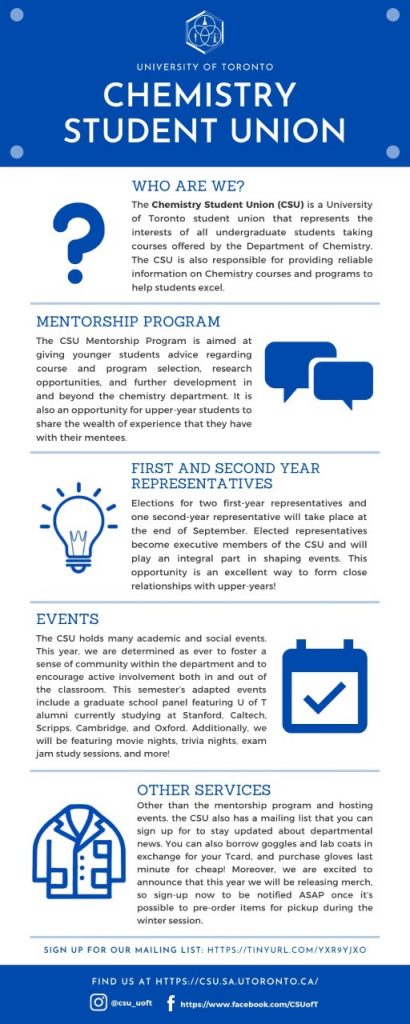 The Chemistry Student Union (CSU) is a University of Toronto student union (bound by the CSU constitution) that represents the interests of all undergraduate students who take courses offered by the Department of Chemistry.
The CSU holds many academic and social events throughout the year to foster a sense of community within the department and to encourage active involvement in both classroom and out-of-classroom settings. Acting as representatives of the Department of Chemistry, the CSU is also responsible for providing reliable information on Chemistry courses to help students excel.

To hear more about our upcoming events and opportunities, make to check out the Upcoming Events page, where we keep you updated on on our latest panels, seminars, events & ways to get involved.
To see who we are, visit the Executive Team page!
To find out how you can reach us, visit the Contact Us page!
CSU Important Statement
The Chemistry Student Union, as representatives of all chemistry students and ambassadors of the greater U of T community, is firmly committed to promoting diversity, equity, and inclusion within and beyond our community, both in and out of classes. The CSU has proudly organized initiatives over the years: through seminars, discussions with faculty regarding student concerns, and drop-in office hours, we hope to increase awareness and foster inclusivity. Especially in light of recent social and political events, the CSU encourages all chemistry students to reflect upon how their unique feelings and experiences connect with and relate to those of their classmates; we hope that our department will continue to be a non-judgmental, supportive learning environment for all students. As we all navigate the unique challenges that the pandemic has imposed upon us, we encourage all students to reach out if they need support or would like somebody to talk to. Please email us at csu.uoft@gmail.com, or alternatively, message us on our Facebook page. All communications of this nature will be kept strictly confidential within our executive team.