CSU Mentorship Program
This program pairs first- and second-year students with upper-year students. For mentees, this is a fantastic way to make new friends, and also have your questions about course selection, research opportunities, and chemistry programs answered. For mentors, this is also a surprisingly good way to make friends, as well as positively impact a junior student's university experience by sharing your wisdom!
Deadline to register: October 15th, 2021 11:59 PM
Mentor Applicant Link: https://forms.gle/v6xeZNewyT2rnVNf9
Mentee Applicant Link: https://forms.gle/q6go53dCHYvFzAJX8
CSU X ChemClub Pub Night
On Friday, October 22 from 7-10 pm, join us for the first pub night since the pandemic at the Madison Avenue Pub! There will be three drinks per person and food will be served at 7:45pm and 8:45pm. To be admitted, all visitors must show proof of vaccination!
Address: 14 Madison Ave, Toronto, M5R 2S1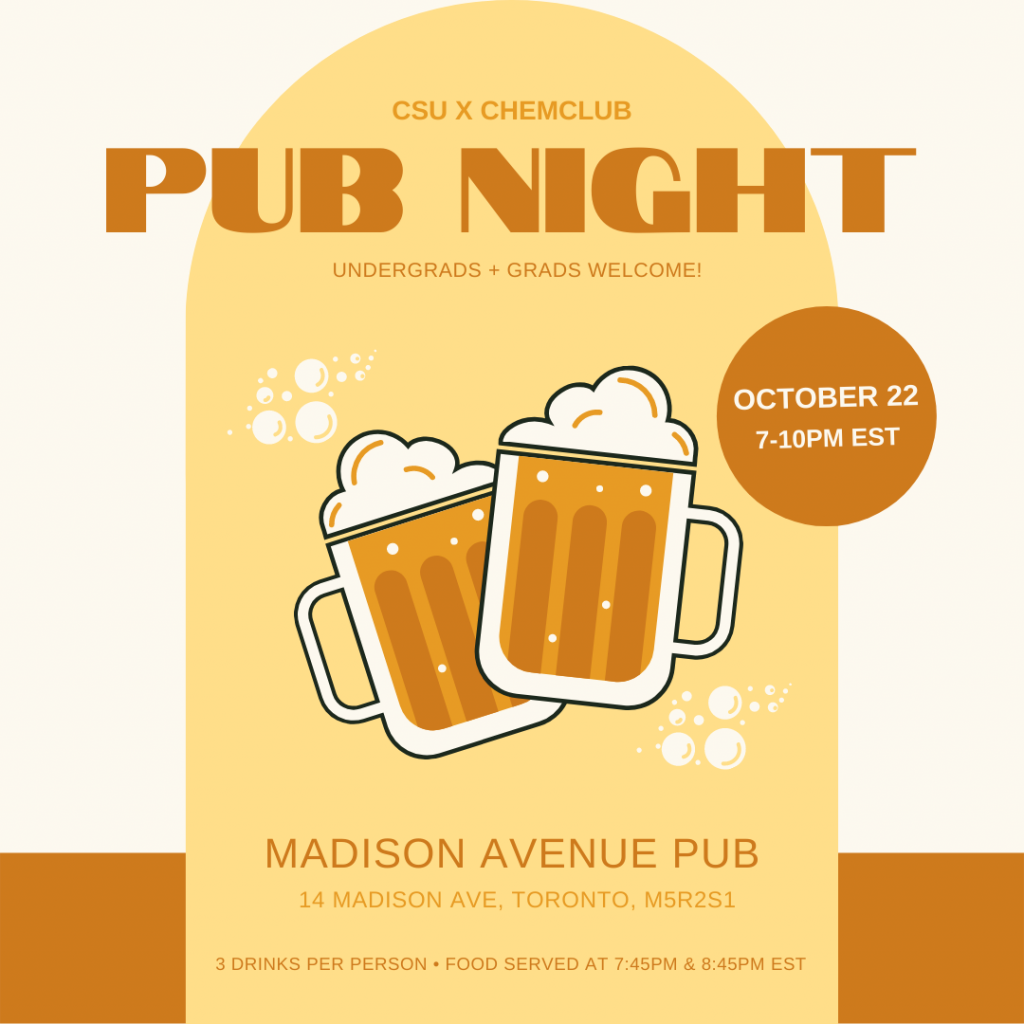 Academic Seminar by Myrna Simpson
This event will occur via Zoom on Tuesday November 16th from 4-5pm! This is a great introduction to Chemistry seminars and a fantastic networking opportunity both to meet more of your peers and to meet Prof. Myrna Simpson.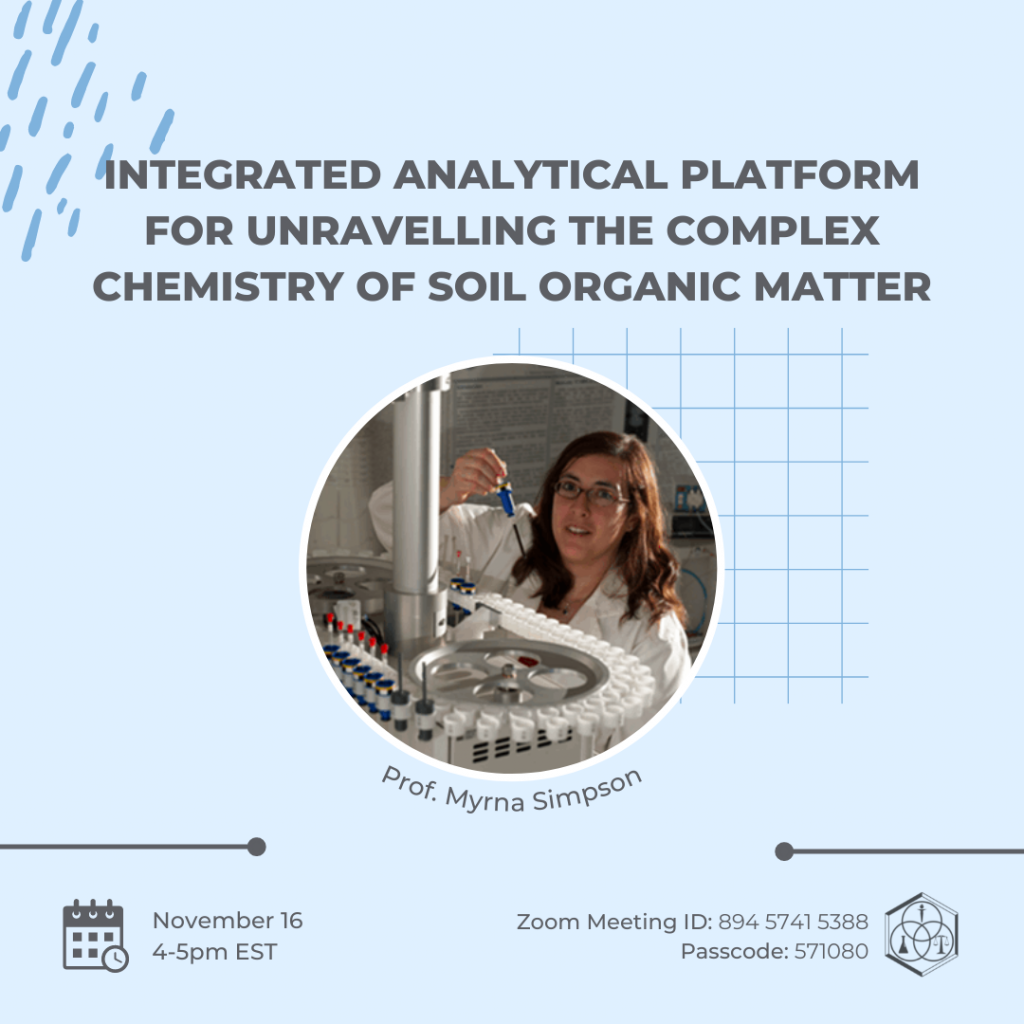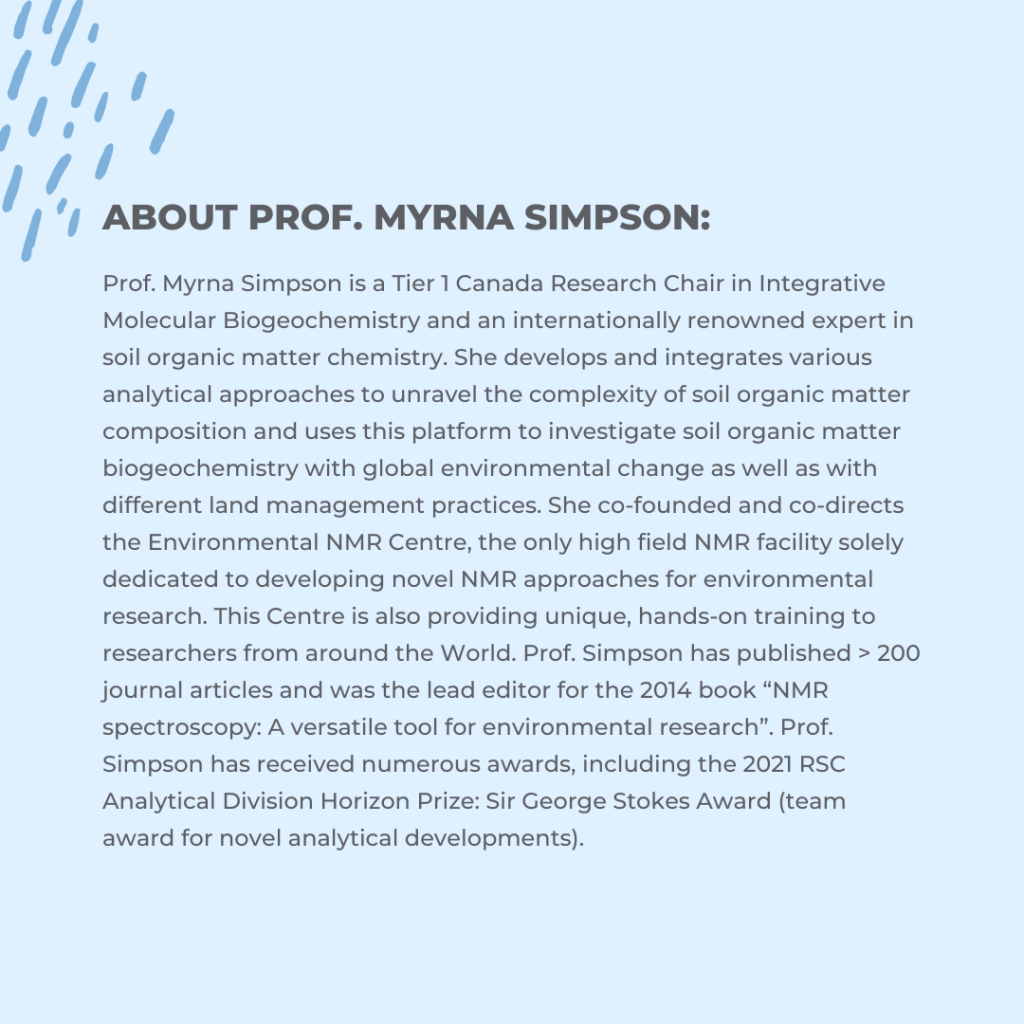 Zoom information:
Meeting ID: 894 5741 5388
Passcode: 571080
https://utoronto.zoom.us/j/89457415388
Graduate Information Session
Reminder to sign up for Graduate Information Session (GIS) happening on the weekend November 20/21! This is an online event hosted through Microsoft Teams, which allows you to hear from professors across Canada (17 universities), network with professors, see virtual lab tours, talk to grad students, and hear from industry speakers! This is a great opportunity if you are considering grad school and unsure of where you want to go, or want to explore contacts at a university. Sign up is completely free on Eventbrite at the link below, please remember to use institutional emails!
https://www.eventbrite.ca/e/graduate-information-session-gis-tickets-186322945947?fbclid=IwAR20SnEX_vdfCExV88E6UHR8I1i-t_JmKmr89jytluuEMiIhonUddTEwpbU
Questions & Suggestions for the Department
The CSU represents your thoughts, questions, and suggestions during semesterly meetings with the department's Associate Chair of Undergraduate Studies and the department's Undergraduate Counselor. Stay tuned for a form where you can submit your comments and questions!